How is a risk assessment done?
There are numerous risk assessment examples like covid 19 risk assessment, fire risk assessment, HSE risk assessment, and many more. The HSE has risk assessment examples on their website with templates which can be viewed here. In addition, HSENI also has a useful covid 19 risk assessment example, use this guide to the steps you need to take to control the risks.
Assessments should always be done by a competent person or team of individuals who have an excellent working knowledge of the situation under review.
HSE defines a competent person as:
"someone who has sufficient training and experience or knowledge and other qualities that allow them to assist you properly. The level of competence required will depend on the complexity of the situation and the particular help you need."
A competent person is a person who:
Knows that the hazard exists
Knows how to eliminate and control the hazard
Has the authority to correct the hazards promptly and efficiently
It is widely agreed that a competent person should not be chosen lightly. This is because they need to be qualified to identify and deal with the hazards associated with risk assessment. For instance, if work is performed in a building with asbestos present, the competent person must know asbestos-related dangers. This knowledge comes from a combination of training, skill and experience.
Completing a Risk Assessment example
In general, terms, to complete a risk assessment, you should:
Identify hazards.
Determine the prospect of harm
Consider everyday operational situations and non-standard events: e.g., extreme weather, maintenance, power outages, shutdowns, emergencies, etc.
Review all available health and safety information relating to the hazard: e.g., manufacturers literature, Safety Data Sheet (SDS), input from reputable organisations, workplace inspection reports, test reports, records of workplace incidents/accidents (make sure to include information about the type and frequency of the occurrence, illnesses, injuries, near misses, etc.)
Identify any action necessary to eliminate the hazard or control the risk using risk control methods.
Perform evaluations to confirm if the hazard has been eliminated or if the risk is adequately controlled.
Monitor the situation to make sure controls continue to be effective.
Keep all documents and records that may be necessary. This may include documentation that includes details of the process used to assess the risk, outlining evaluations, or detailing how conclusions were made.
Have an understanding of the legislative requirements.
How to identify a hazard?
When performing a risk assessment, the goal is to find and record possible hazards that may be present. When looking for hazards, it may be helpful to use the following list:
Look into all aspects of the work
Include off-site workers: e.g., home workers, other job sites, teleworkers, drivers, clients, etc
Look at how the work is organised or done (it may be helpful to include the experience of people doing the work, using the systems, etc.)
Look into non-routine activities such as maintenance, repair, or cleaning
Look at accident / incident / near-miss records
Consider visitors and the public and the relevant risks associated
Pay attention to groups of people with different risk levels: e.g., inexperienced workers, persons with disabilities, expectant mothers, etc
Look at unusual conditions: e.g., power outage, extreme weather etc
Is it possible to intentionally/unintentionally alter a product, machine or equipment? e.g., Is it possible to remove a safety guard?
Review all lifecycle phases
How to prioritise risks?
Ranking the hazard is a way to help determine which risk is the most serious and should be controlled first. Priority is established by taking into account a persons exposure and the potential for incident/ injury or illness. Assigning a priority to the risk creates a ranking or action list.
There is no one simple way or technique to determine the level of risk. You or the Competent Person must decide which approach works best for each situation. Knowledge of the workplace, its activities, the urgency of conditions, and, crucially, objective judgment are required when ranking a hazard.
View our risk assessment template examples.
Less complex situations
In this risk assessment example, an assessment could be a discussion or workshop session based on knowledge and experience. Checklists or a probability matrix could be helpful in these types of cases.
Here's an elementary risk matrix showing the relationship between probability and severity.
The severity and probability ratings in this example are represented as below:
| | |
| --- | --- |
| poisoning, major fracture, significant loss of blood, severe head injury, or fatal disease | An individual is likely to experience once or twice a year |
| localised burn, sprain, strain, dermatitis, asthma, an injury requiring days off work | An individual may experience once every five years |
| an injury that requires first aid only; irritation, short-term pain, or dizziness | may occur once during a working lifetime |
Now apply the cells from the simple risk matrix to the risk level table below: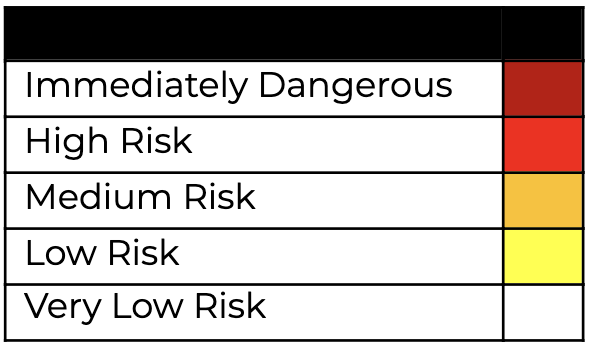 The following risk ratings correspond to recommended actions as follows:
| | |
| --- | --- |
| Immediately dangerous | Stop the process immediately, implement controls |
| High risk | Investigate the process, implement controls immediately |
| Medium risk | Maintain the process; develop a control plan and implement as soon as possible |
| Low risk | Maintain the process and monitor. A control plan should be investigated |
| Very low risk | keep monitoring |
Here's a risk assessment example
You need to paint the ceiling in your office, but you must use a step ladder to do so. You will not be standing higher than about 1 metre on the ladder or off at any given time. If you were assessing this situation, you would probably find the outcome from working on this ladder is likely to:
If you fall, it causes a short-term injury, a strain or sprain. A severe sprain may result in several required days off work. This outcome is similar to a medium severity rating.
As painting your ceiling is rare in the office environment, it warrants a low probability rating.
If you compare this to the simple risk matrix chart above, you can see that these values correspond to low risk.
As a result of the above risk assessment example: Your organisation has decided to implement risk control measures, including using a roller brush with an extra-long handle that enables an individual to remain on the ground whilst painting the ceiling. It was also determined that the individual painting could use training on how to use the new paint roller and included steps to avoid excess reaching while painting.
Risk Warden Risk Assessment Software
With Risk Warden software, the assessment grading calculation is automatic, and every time you amend or edit your assessment, the grading will automatically alter the consequences based upon the control measures input. Risk Warden delivers efficiencies by streamlining and automating your Risk Assessments, dramatically reducing the time spent on complex and time consuming manual tasks and processes.
It delivers real-time control and visibility across an unlimited number of risk assessments, including a repository for documentation creating a digital trail of evidence to satisfy all legal requirements.
Get for your free Risk Warden account today – no credit card required, no contracts.